Moonstone grass-fed beef is raised for you on 100% grass and hay without pesticides, antibiotics, hormones or genetic engineering. We are committed to land stewardship, contented livestock, clean water and wholesome, healthy food. We are licensed by the Minnesota Department of Agriculture.
Pricelist
View our Retail Pricelist (PDF).
Please inquire about availability and delivery arrangements
Order
Click here for a Moonstone Beef order form (PDF).
Bulk Orders
When you purchase Moonstone Beef by the quarter, you can enjoy our premium product for only $3.80/pound, based on the "hanging weight." This is the weight of the meat after the animal has been butchered, but before it has been divided into individual cuts. Your quarter is cut to your specifications, working directly with local butchers. Available year round.
Approximate cuts on a split half-quarter (hanging weight approximately 150-175#):
7 or 8 roasts, 6 ribsteaks, 6 T-bones
2 clubsteaks, 6 sirloin steaks, 2 sirloin tips
6 roundsteaks, Shortribs, 30-40# groundbeef
3 pkg. Liver/Heart/Tongue (if wanted), Soupbones
Yield and costs are based on hanging weight (before trimming and deboning):
Whole beef about 800 lbs. hanging weight
Half beef 400 lbs.
Quarter beef (split half) 200 lbs.
Cooking Grass-Fed Beef
Beef animals raised on pasture tend to produce a leaner product. That means you may want a meat thermometer, turn down the heat, and try super slow roasting for less tender cuts.
Restaurants
Moonstone Grass-fed Beef is featured at the following restaurants:
Farm Store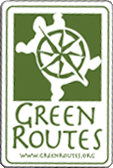 Our on-farm shop, "The Carriage House," features our own all-natural grass-fed beef products, Kalliroe pork, cheeses, our Millefiore honey, Stranlund Farm local preserves, Dry Weather Creek flours and baking mixes, White Earth wild rice, coffees, chocolates, books and hand-thrown Handeen pottery.
Moonstone is proud to be a part of the Green Routes initiative to promote sustainable tourism in Minnesota, directing travelers to places where locally grown food and locally made products can be found.